Heddle Bar Hook for Wolf/Standard Floor Looms
Replaces the heddle bar hook on all Baby Wolf, Mighty Wolf, and Standard Floor Looms. Each shaft of a Baby Wolf, Mighty Wolf, or 36" Standard has 2 heddle bar hooks; the 45" Standard has 4 heddle bar hooks per shaft. Wolf Pup (original), Wolf Pup LT, and Wolf Pup 8.10 do not have heddle bar hooks.
Installation: You will need a flat (slotted) screwdriver; 3/8" or adjustable wrench; spirit level.
Remove heddles and heddle bar hooks from the shaft. Thread a string through the tops of all heddles and tie the string securely; repeat at the bottoms of all heddles. Pulling down on the heddle hook(s) of one heddle bar, bend the bar gently in middle to release one end and slide the other end out. Repeat for the remaining heddle bar. Set the heddles and the two bars aside, keeping the heddles on the bars.
Unscrew the old heddle bar hook by hand; if it will not turn by hand, use the blade of a butter knife or a flat (slotted) screwdriver.
Insert the new heddle hook in the hole and use a 3/8" or adjustable wrench to screw it firmly into place.
Carefully reinstall the heddle bars and heddles in the shaft frame.
Use a level to make sure the heddle bar on the new hook is parallel to the shaft top and bottom; it should slide a tiny bit from side to side. If necessary, adjust the height of the new hook with a screwdriver. Then pull the lock down, insert the heddle bar onto the hook, and release the lock upward. Repeat this process until the bar on the new hook is level.
Share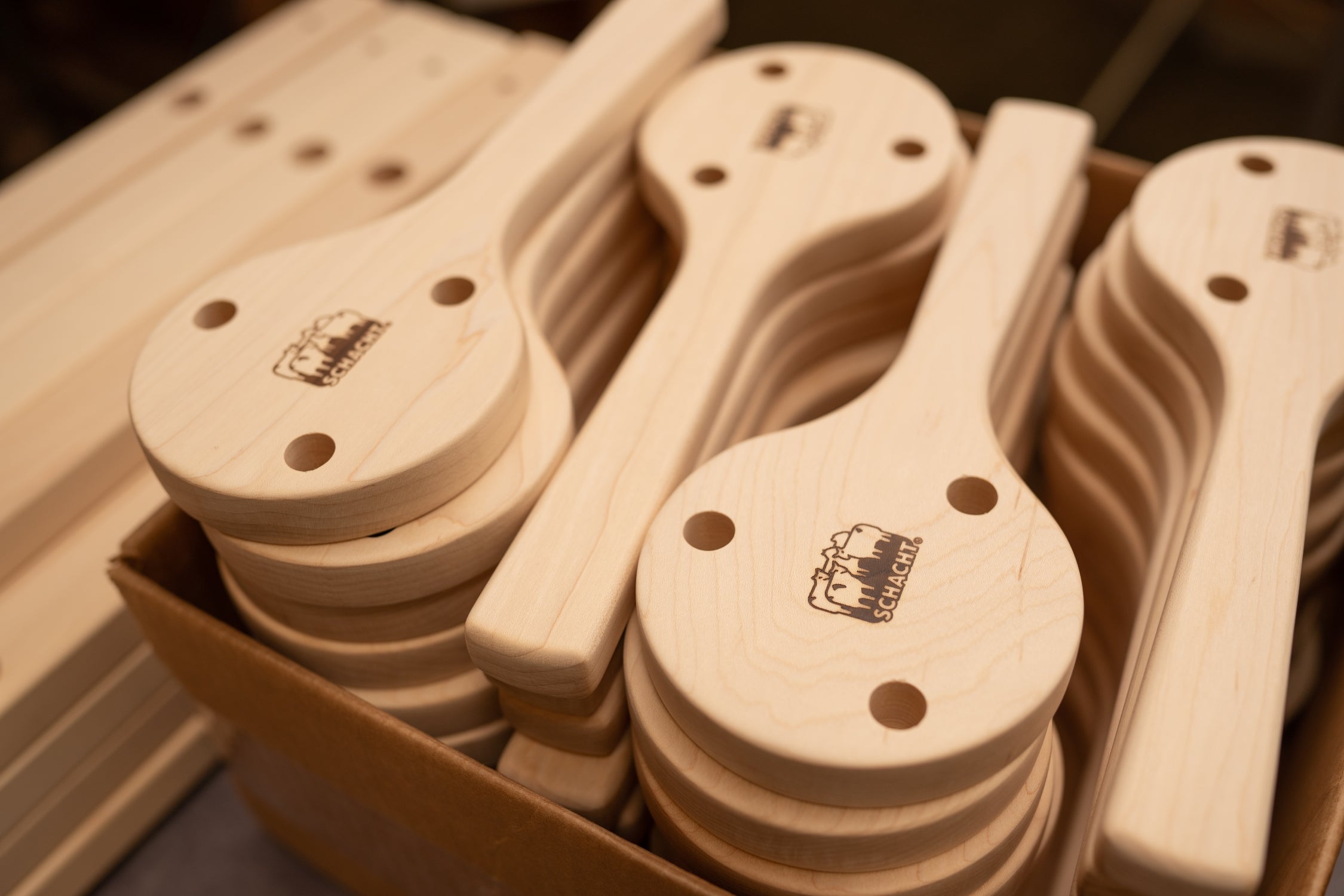 Invest in Your Craft
Ingenious designs. Elegant lines. Convenient accessories. Craftsmanship held to exacting standards. Schacht products will last for generations.

When you spend hours with your tools, you deserve the very best.
Grow Your Craft
Whether you're new to fiber arts, or interested in broadening your skills, we've got classes! Learn from talented instructors at the Schacht School of Textile Arts.