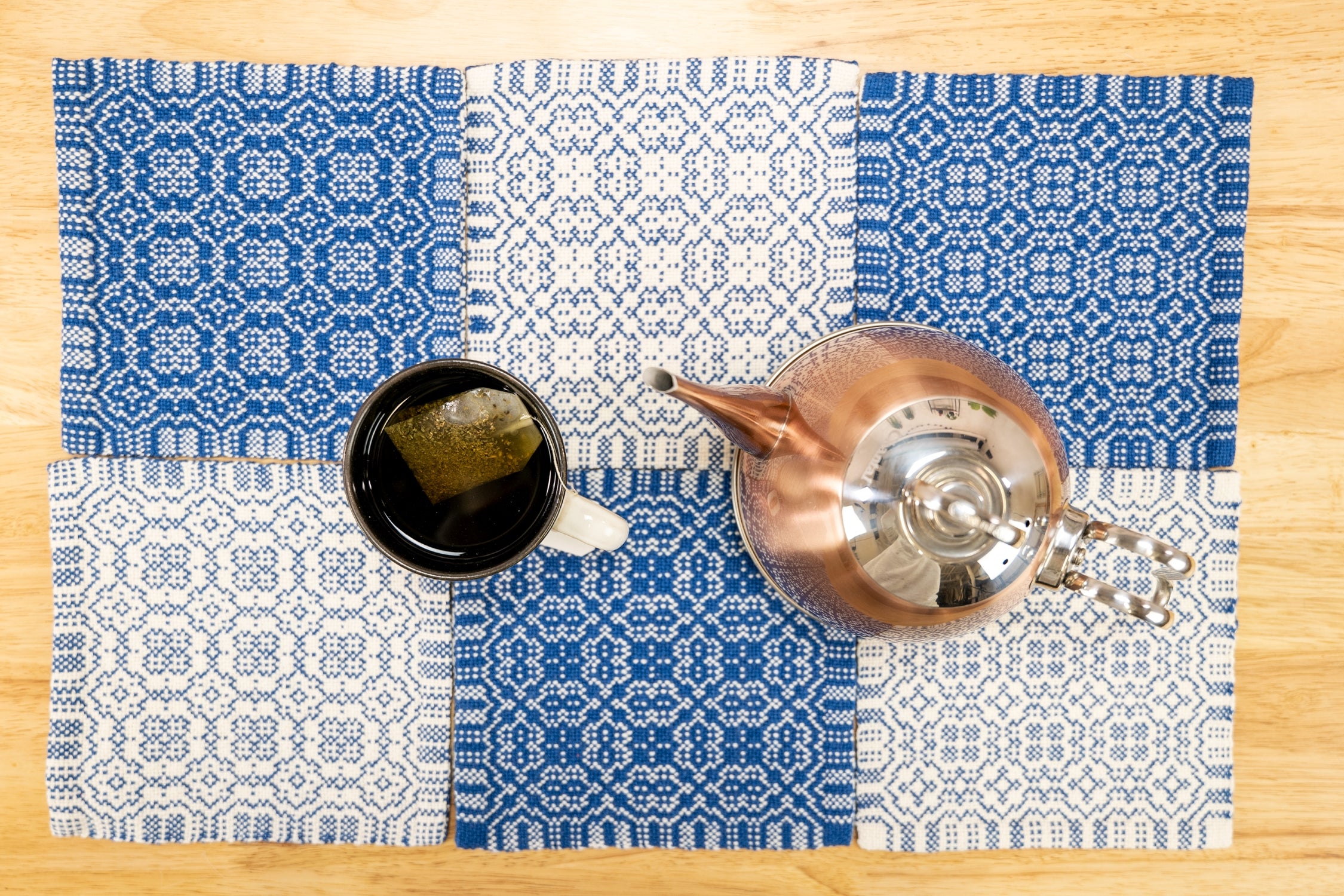 If you're reading these words, you're aware that our website, monthly newsletter, and social media are constantly promoting the work of fiber artists by showcasing their weaving projects, technique tutorials, and/or articles on the fiber arts community. Have you ever wondered where all this stuff comes from—how a design idea becomes a project other people can make, or how someone can explain a spinning technique in words and photos? Have you ever wanted to design a project or teach a technique yourself?
Did you just answer "YES!" to any of these questions? Then keep reading, because we're calling for your design and technique ideas!
Schacht Spindle Company welcomes proposals for projects and technique tutorials, to encourage and educate fiber artists of all ages, at all skill levels. Our content reaches makers all over the world, inspiring them to create textiles with our products.
Above: Flower Garden Hot Pads by Malynda Allen, 4 shaft loom
Right: Weaving for the Birds by Elizabeth Cote, rigid heddle loom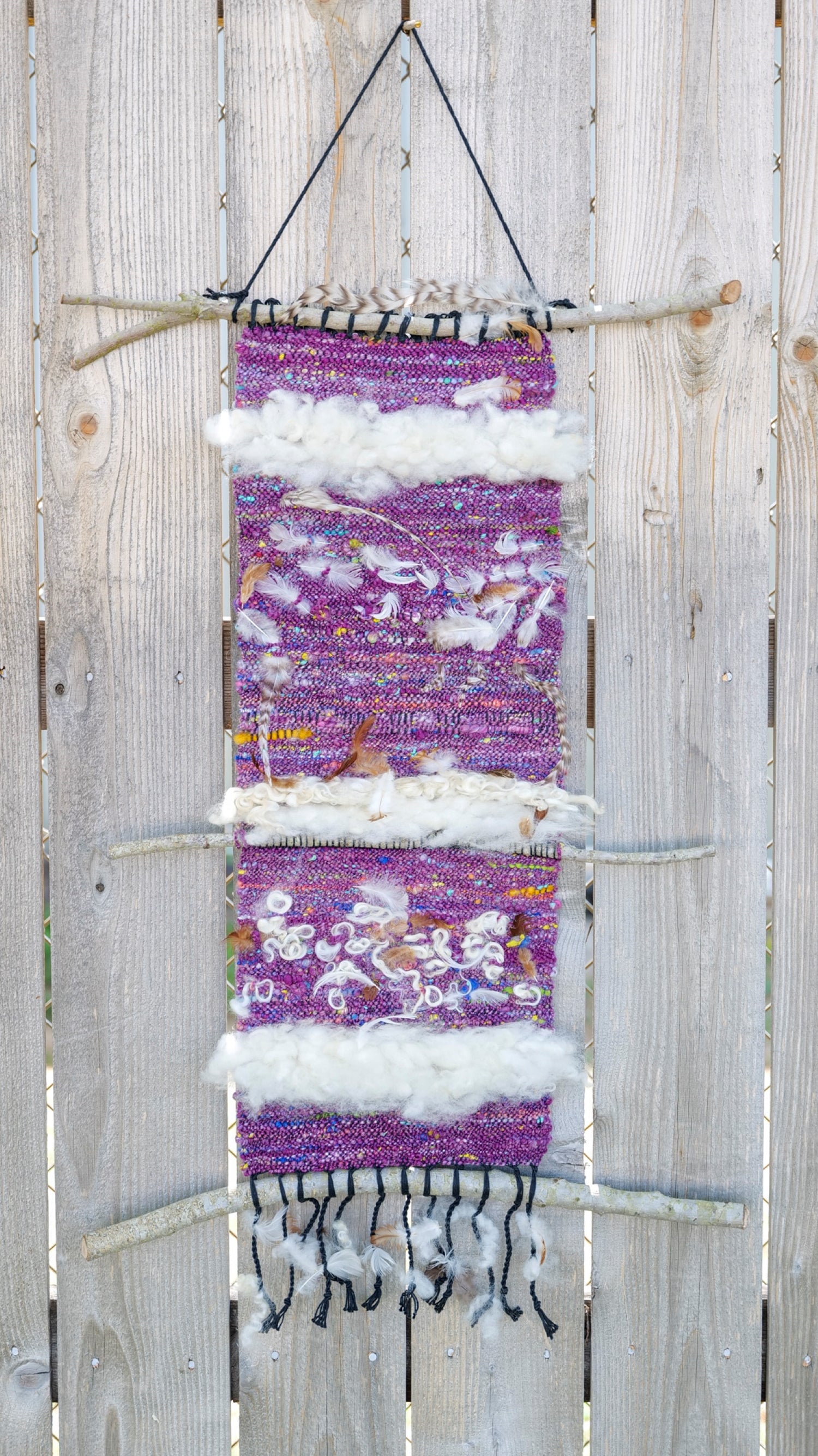 Semi-Annual Call for Projects & Tutorials
We're looking for original* projects and technique tutorials from fiber artists that highlight Schacht equipment.
Weaving projects for our small looms: Weaving Cards, Inkle, Lilli, School, Arras Tapestry, Original Tapestry, Zoom Loom
Weaving projects for rigid heddle looms: Cricket, Flip
Weaving projects for shaft looms: Cricket Quartet, Wolf looms (Pup LT, Pup 8.10, Baby, Mighty), Standard Floor Looms
Weaving techniques: any Schacht looms or weaving tools
Spinning and/or fiber prep techniques: any Schacht spinning tools, spindles, or spinning wheels (Matchless, Sidekick, Ladybug, Flatiron)
Multi-craft/cross craft projects and techniques—for instance, a combination of spinning and weaving; spinning and ropemaking with The Incredible Rope Machine®; dyeing and weaving, etc.
*Original means you have designed the project or written the content yourself. By submitting, you attest that no part of the content has been published elsewhere, and that you have submitted the proposed content only to Schacht Spindle Company. Weaving projects may include weaving drafts or motif patterns from published books (for instance, A Weaver's Book of Eight-Shaft Patterns, The Weaver's Idea Book, The Weaver's Inkle Pattern Directory) but you must credit the source. We cannot accept proposals that do not meet these guidelines.
Contributors will be paid $200 for each accepted project/article, payable upon final acceptance of the ready-to-publish content.
As you create the content, Schacht staff can answer questions—we're happy to help!
Complete one submission form (below) with supporting files for each project you wish to submit. We're accepting submissions from September 16, 2023, until November 1, 2023. Any projects that are a set (for instance, handwoven placemats and napkins) will counts as a single project unless its components have very different requirements. You're welcome to submit as many proposals as you like!
Schacht Spindle Company will contact submitters about all proposals by December 1, 2023.
If your proposal is accepted, we will suggest a timeline for submitting the finished project/tutorial, including all deliverables such as project samples, written content, in-process photos, rough sketches for diagrams, short videos, etc.
The editorial staff here at Schacht will provide assistance for content editing and revisions. We can create any necessary diagrams and provide formal project photography.
During our production and editing process, please be available for working with Schacht's content and technical editors. You should expect questions and in-process drafts from Schacht staff because we want your project/tutorial to be as clear and error-free as possible. You will be asked to read and approve the final version.
Once you approve the final content, we will process your payment and return any sample items to you. You are welcome (and indeed encouraged) to promote this content on your own website and social media by linking back to Schacht's website page, which will include a downloadable PDF. You may not distribute this content in any other form.
Upon final approval of the project/tutorial, you agree that your project is the intellectual property of Schacht Spindle Company and they are hereby able to utilize this project for digital and print distribution (including but not limited to social media, website, newsletter, etc.). Schacht Spindle Company guarantees that proper credit will be given to you when the project is distributed.